Gallegos accounts for five scores in win
ANADARKO – Kyle Jones just received his health clearance to play football on Thursday, after dislocating his shoulder in Anadarko's season opener. Coaches made sure to ease him into things on Friday.
But even in limited playing time the junior inside linebacker proved what his presence means to the Warriors.
Jones helped highlight a balanced and dominant victory in Anadarko's 41-14 win over Elk City, coming up with a key stop at midfield on fourth-and-1 just before halftime that helped the Warriors break the game open.
After his first live action in three weeks, everything still seemed to work right.
"I feel fine," Jones said.
Jones's key play occurred not long after he checked in for the first time just midway through the second quarter. With under five minutes to go until halftime, instead of the Elks driving deeper into Anadarko territory and possibly cutting a 14-0 lead to a one-score game, he tackled Elk City quarterback Gage Porter on fourth down to give the ball back to the Warriors' highly efficient offense, which piled up 409 rushing yards on 9.5 yards per carry.
The Warriors went straight down the field and scored to take a 21-0 lead into halftime.
"We went over that formation a couple times in practice," Jones said. "We knew what we were doing, with the scouting report and everything. I knew what to do and just got in there and did it."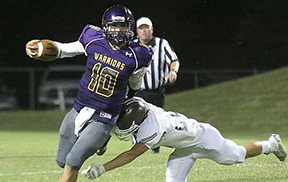 Said Anadarko coach Kent Jackson: "Kyle was our best defensive player against Chickasha, then we don't have him against Altus. Our depth is probably not as good as it's been in the past, so that hurt us against Altus. He came in and gave us some great reps tonight. We still wanted to play him sparingly."
Anadarko (2-1) held Elk City to 143 yards of total offense through three quarters and led 34-0 going into the fourth. Defensive end Kaden Jackson finished with four sacks.
Elk City quarterback Gage Porter finished 14-of-21 passing for 228 yards, but the bulk came against Anadarko's reserves in the fourth quarter.
The offensive performance turned some heads, too.
Anadarko nearly had three players rush for more than 100 yards. Quarterback Nacho Gallegos rushed 18 times for 186 yards and accounted for five touchdowns  four on the ground and one through the air.
Junior tailback Trey Eason (116 yards) and junior Tarron Wilhoite (99 yards) hurt the Elks (2-2) when they focused too much on Gallegos. Many teams this season will be in that position when defending the senior, who is averaging nearly 200 yards rushing per game this season, in addition to performing kicking duties and playing linebacker.
"It feels good, I ain't gonna lie. It feels good," Gallegos said of the load he's carrying. "But I've got some good linemen laying blocks for me and (Eason) helps me out a lot when I get tired."
On Anadarko's 75-yard scoring drive to open the game, Gallegos rushed for 56 yards, including a 20-yard scoring run. The Warriors scored on five of their next six possessions and did not punt until the fourth quarter.